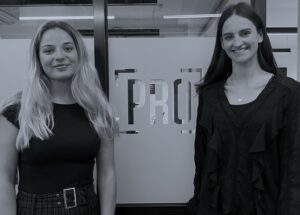 Recently, I discussed with our new interns, Phoebe Huntington and Izzy Marsh, their internship experience so far, what it entails on a day-to-day basis, and what they think it takes to launch a career in communications.
What interested you in PR and communications?
Phoebe: When I was studying my MA, I really enjoyed my PR modules, so decided to pursue it further. Personally, I love the social elements of it- there's so many opportunities to speak to clients who are not only experts in their fields, but also truly interesting people! Talking to these experts is also a great way to gain perspective on so many different industries, which I find very engaging.
Izzy: I have always had an interested in PR and found the processes behind promoting a company or client interesting. I studied history at university, so was always researching or writing essays, which are skills that are helpful for PR!
What are you doing day-to-day?
Phoebe: One of the things I'm really enjoying about my internship is that no two days are the same. I'm doing a real mix of tasks: Writing blogs, drafting pitches, attending workshops and media monitoring to name a few.
Izzy: The role of an intern varies – from admin work, to attending meetings, to researching and helping draft press releases, or more generally supporting the team. No day is the same.
Based on your experience so far, what are the skills most needed for a PR intern?
Phoebe: Being communicative is a helpful skill, including being a good listener. This enables you to understand different clients' priorities and pressures. I also think that creativity is something that is valued very highly, as fresh ideas are always appreciated.
Izzy: One of the most needed skills is adaptability, being flexible to meet each clients need. Being open to learn is also crucial, so that you can develop and get a better understanding of the PR world. Finally, I would say that time management is paramount, to make sure you can get tasks done on time, meeting deadlines without any panic.
What has been eye-opening and unexpected?
Phoebe: The amount of responsibility I have been given has been surprising, in the best way. PRO has trusted me with important tasks, and this has allowed me to learn so much. I also underestimated the scope of PR, as all of PRO's clients are so different, and I've learned that programmes for each client can really vary!
Izzy: The breadth of different skills required for different clients has been eye opening, and goes to show how versatile you must be for PR.
Any advice for those looking for a PR internship?
Phoebe: Keep putting yourself out there! I know it can be easy to doubt yourself in the early stages of your career, but I genuinely think a lot of firms are very keen to take on new interns and help them learn more about PR.
Izzy: Go into the experience with an open mind, do the best you can with everything. It is ok to feel overwhelmed to begin with, it is a learning process.
Before joining PRO, Phoebe Huntington studied English Language and Literature at the University of Brimingham, and then completed a Masters at Goldsmiths, University of London in Promotional Media: Marketing, Advertising and PR.
Before joining PRO, Izzy Marsh read History at Loughborough University.
Gavriel Cohn is an Account Executive at PRO.
If you're just starting out on your PR adventure and enjoy a fast-paced environment where no two days are the same, why not consider applying for our internship programme which was previously shortlisted in the PRWeek/PRCA Internship Awards as one of the UK's top internship schemes. Internships are six months and throughout your time at PRO you'll get hands-on client experience as well as comprehensive training as part of our training and development programme – The PRO Library.