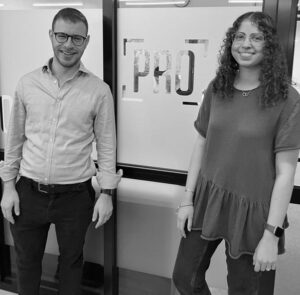 Gavriel Cohn and Deborah Low
At times, for a number of reasons, organisations can focus on the end goal of their PR and communications objectives without interrogating what they want to say, or who they want to say it to. Ahead of any new project or campaign, be it launching a new product, expanding services, or merging with another organisation, it is vital that companies take a step back and assess their image, messaging and purpose as a whole – asking the fundamental questions of where are we now, where do we want to be and how do we get there.
The clarification of one's brand, vision, target audience and tailored messaging is essential to this process, and to ensuring a successful communications programme. To help our clients do this, current and new, we offer PRO Message Development Workshops which provide organisations a bespoke forum to delve into the very heart of their business and purpose.
Each workshop is tailored to the organisation at hand and has various stages, adapted depending on the needs and size of each company. As part of the core offering, with full approval from the client, we first conduct targeted research, reaching out to both internal and external stakeholders, asking questions such as how the business is perceived, whether its purpose is clear, and if it is on the right trajectory. From this, we start to build a stakeholder map, identifying the different audiences they may wish to be speaking to, while for more established organisations we also look at their share of voice.
The above preparation is then shared with the client in the workshop and used as a springboard for discussion and reflection. The insights gained are often met with surprise, but also interest and agreement. Key branding, vision statements, and current communications strategies are analysed and evaluated, allowing those in the session to really unpick where the company's messaging stands at present. Then the real brainstorming starts:
"We are a multi-faceted business, why do the public think that we only offer this one product? Who even is our public, are we targeting the right audiences? We have thousands of clients, why are we not recognised more? What is our vision anyway, in five years' time do we want to be the same size? Is the image we project now one that we want to be broadcasting in the future?"
These are just a handful of considerations that can arise from these sessions, which are then complete with interactive and collaborative mini workshops to establish key objectives, priority audiences and targets, current drivers and barriers to engagement, preferred communication channels and development of core messages. These are presented back to the client and, once finalised, inform the development of a comprehensive and tailored communications plan to assist with brand building, content creation, profile-raising and ensuring that the right messages are reaching the right people.
The question we must all ask ourselves is how can an organisation know what they want to say or whether what they are saying is having the desired impact if their image, purpose, and vision has not been reviewed and interrogated? Message Development Workshops are a crucial step in this process, helping organisations to shine a torch onto these often-murky issues, clarify their communications and messaging, and produce a clearer strategy for the future. Let the discussions begin.
For more information on the PRO Message Development Workshop and how they can support your organisation please contact [email protected].
Gavriel Cohn is an account executive at The PR Office.
Deborah Low is an account manager at The PR Office.